Welcome!
Hey! I'm Janita, the founder of the Paper Flower Academy! I am joined by three other wonderful paper florists, Kelly Grace Gibbons, Jeanette McKibben, and Johanna Oliver, that all bring their own techniques and unique style into everything they teach!
You're in the right place if you want to learn how to create real looking flowers from paper! We have three ways to sign up for monthly paper flower tutorials! Join the monthly subscription or 6 month and yearly subscription where you save a bit of money!
We are excited to share new flowers with you each month! We have a variety of methods to share so there is always something whether you are a beginner or an advanced paper florist looking to build on your already present knowledge.
We want to thank you for your support in all that we do! Because of you I have the ability to pay three amazing women a livable wage for sharing all that they know about paper flower crafting.
Much love, Janita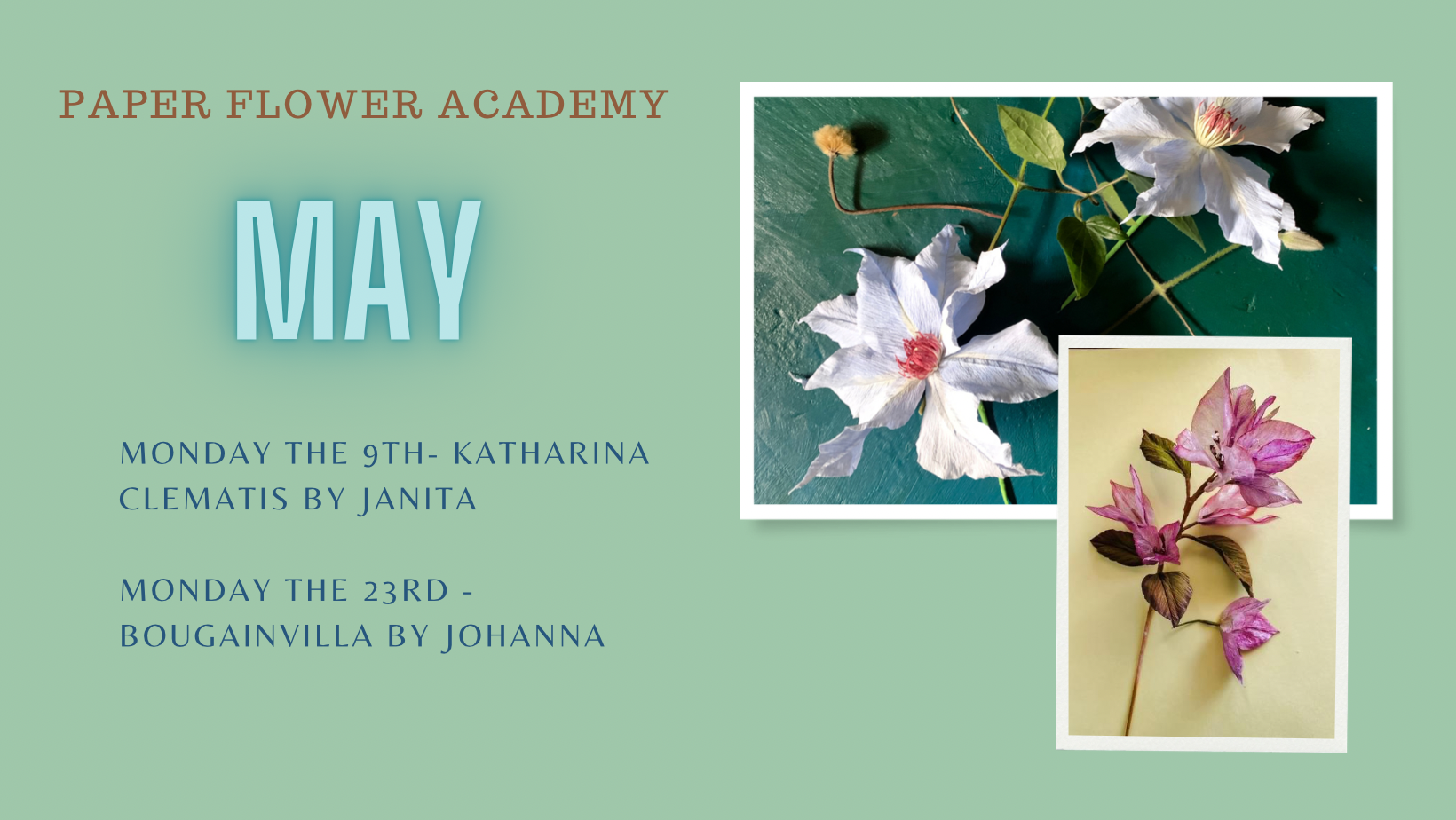 This month we are making the Bougainvillea taught by Johanna Oliver and the Katharina Clematis taught by Janita Court.
Example Curriculum
Available in days

days after you enroll

Welcome to Paper Flower Insiders Academy!
Available in days

days after you enroll

August 28th (7pm PST) Zoom Meeting!!!
Guess What!?
Members of the Academy also get access to over 30 paper flower courses instantly!
Enjoy an array of paper flower courses for as long as you are a member of the academy!
Instant access to:
Chinese Lantern Plant
Potted Amaryllis
English Lavender
Classic Tulip
Parrot Tulip
Tulip Bulb
Freesia
Sweet Pea Pod
Fancy Hellebore
Butterfly Ranunculus
Ranunculus
Phalaenopsis Orchid
Cymbidium Orchid
Gerber Daisy
African Daisy
King Protea
Waxflower
Hypericum Berry
Astilbe
Boscobel Garden Rose
Billy Balls
Hanging Amaranthus
Pansies
Bells of Ireland
Queen Red Lime Zinnia
Gladiolus
How to make a bouquet
Paper Floral installation - Hanging arrangement
Wild Flower Crown
Garland Tutorial
(Please Note: These bonus courses are only available to any member enrolled in the membership for as long as they are paid members.)
Frequently asked questions!


What do I get when I join the monthly membership?
You get two new paper flower courses never taught before released each month! You also get access to over 25 past paper flower courses and arrangement courses instantly!
Do I get to keep the two monthly flower courses if I was a member that month if I cancel?
Yes!! For each month that you are a member, two new flower courses will be released! These two courses are yours to keep forever, even if you cancel your membership, we know life gets a little crazy and sometimes there just isn't enough time to finish them.
Do I get to keep flower courses that are bundled with the membership if I cancel?
Unfortunately only paying members get to reap the benefits of this perk. Any time you join again though you will have instant access to them.
When do I get the two new flower courses during the month?
Each month before the 3rd there will be a calendar of events released! This calendar will have set days on which each course will be available. Usually the second and fourth week of the month are the typical release times for each course.
Is there a private community where I can ask questions and share my flowers?
Yes!! We are on a private platform called circle.so and have a private facebook group where members can share their beautiful flowers, ask questions to instructors and members, and stay in touch during the whole process. (But you don't have to join either to enjoy the courses)


Can I cancel anytime?
Yes! It is super easy to cancel your subscription. Once you cancel you will lose access to the over 25 bonus flower courses but can still find the monthly released courses in your teachable school.